NWChem:Current events
From NWChem
(Difference between revisions)
Line 15:
Line 15:

===NWChem Schedules Tutorials and Hands-On Training===

===NWChem Schedules Tutorials and Hands-On Training===

-

The NWChem developers will be holding an two-day tutorial and hands-on training at NCSA on October 22-23.

+

The NWChem developers will be holding

-

===NWChem tutorial at the National Supercomputer Center in Bejing===

+

tutorial

+
+

at the National Supercomputer Center in Bejing
---
Revision as of 12:07, 3 September 2010
PCCP Perspective Published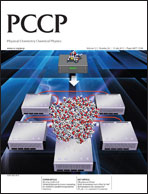 Developers of NWChem at EMSL were the lead authors on a perspective article in the highly ranked PCCP journal on utilizing high performance computing for chemistry and parallel computational chemistry. The article and cover were published in Chem. Chem. Phys. 12, 6896 (2010).
NWChem released as open-source
On September 30, 2010 NWChem version 6.0 was released. This version marks a transition of NWChem to an open-source software package. The software is being released under the [Educational Community License 2.0] (ECL 2.0). Users can download the source code and a select set of binaries from this site.
New functionality includes...
New platforms include
NWChem Schedules Tutorials and Hands-On Training
The NWChem developers will be holding:
A 2-hour tutorial at the Pacific Northwest AVS meeting held at PNNL on September 14-15, 2010
A two-day tutorial and hands-on training at NCSA on October 21-22, 2010
A three-day tutorial and hands-on training at the National Supercomputer Center in Bejing on November 8-10, 2010